For those
who like to focus on their coffee,
not technical issues.
As a full-service provider for professional coffee machines, we keep your business awake – from offices and cafés to hotel and restaurant chains.
But our work is about more than just machines and service. It's about people. Our customers and our team are united by a shared passion for: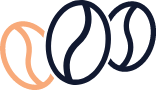 Everything
great coffee needs.
We keep your business awake.
What are you
looking for?
Find your machine
in 5 clicks.
Not quite sure what kind of machine you're looking for? No worries. That's why we created this form for you. Just answer 5 basic questions and our sales team will help you out.